BarCodeDLLs 條碼軟體
Add High Quality Barcode Printing Capabilities to Windows Applications


· Create exceptionally high quality, device independent, Windows MetaFile graphics. Not fonts! Not bitmaps!
· Extremely easy to use, includes programming examples and FREE barcode tutorial.
· Use the Barcode DLLs and create professional quality, high resolution, bar codes today!



High Resolution Graphics


The Barcode DLLs create completely device independent, high resolution, Windows MetaFile (.WMF) graphics. WMF graphics are vector graphics that will print to the highest resolution of any printer. You do not need to know the dot resolution of the printer in advance.
Unlike bitmaps, Metafiles will not distort in size depending on the resolution of the output device. In addition, you can view the graphic on screen WYSIWYG. MetaFiles are extremely small in size and therefore print much faster than any other type of graphic. They also require much less memory or disk storage space.
MetaFiles are the native graphic format for Windows and are fully supported by VB, C/C++, Access, Excel, Word, and all other popular programmable applications.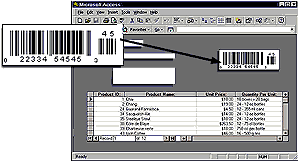 Key Features
• Print perfect bar codes from any application to the highest resolution of any printer!
• Supports rotation, text, color, bearer bars, quiet zones and all other features of bar codes. Also automatically calculates and adds check digits.
• Bar codes created are 100% to specification and hence always readable.
• All major bar code symbologies are available, including Codes 39, Code 128, EAN/UCC 128, Code 93, UPC, EAN, Interleaved 2 of 5, BookLan, Codabar, MSI/Plessey, PostNET, RSS-14, PDF417, MaxiCode, DataMatrix, Aztec Code, RSS-14 etc.
Sample Source Code


To make it even easier to add bar coding capabilities to your custom applications, we provide you with sample source code for all popular applications including VB, C/C++, Access, PowerBuilder, etc. We also provide free and unlimited technical support.



Output in any of 4 Ways


The Bar Code DLL can output bar code graphics in 4 different ways:
1. Output to memory MetaFiles.
2. Save to the clipboard as MetaFiles.
3. Save to disk as MetaFiles (.WMF).
4. Draw the bar code directly to a Device Context (hDC).
They support all the features necessary to produce professional quality bar codes for any application - product packaging, document tracking and specialized bar code labeling.



FREE Support


To ensure complete user satisfaction, TALtech provides free and unlimited technical support for all its software products. Easily reach us by phone, fax or email for immediate answers