B-Coder Professional 條碼軟體
Print perfect bar codes in Word, InDesign, etc... Any Windows Application.
Easily add professional quality bar codes to documents or labels created with any Windows program. Extremely easy-to-use. Enter a message, click your mouse, and your bar codes are instantly displayed on screen and copied to the clipboard for pasting into other programs. Automate barcode labeling and production in Word, Access and other Windows applications with B-Coder Pro.

B-Coder Pro is an extremely easy-to-use program that generates professional quality barcodes of all major symbologies and any size. Easily incorporate bar code technology into any Windows program - MS Word, Access, WordPerfect, Quark, PageMaker, etc.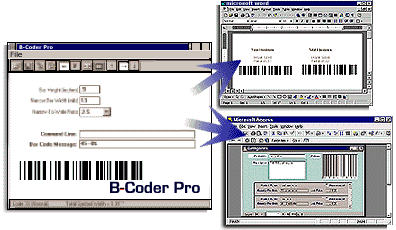 "Thank you very much for all your help (creating customized bar code generation macros for B-Coder Pro). It is really refreshing to come across a software house that offers such efficient and helpful support. Quite amazing really." - Edward Lambert, Lambton Tailoring.
Key Features
• Easily adds professional quality bar codes to any Windows application.
• Supports all major bar code symbologies, including 2-D symbologies.
• Full control over all bar code dimensions and features.
• Support for color, rotation, bar width reduction and other features of bar codes.
• Creates bar codes in any graphic format WMF, EPS, GIF, etc.
• Automates bar code production in MS Word, Access and other Windows applications.
"Dynamite Program! I use B-Coder Pro to automate bar code production in all my database applications - Access, FoxPro, etc." - Jeff Dean, PSI
Ease of Use
Instead of dealing with expensive and complicated bar code label design programs, simply paste perfect bar codes into the programs that you already know how to use!
B-Coder Pro even adds barcode options right into your MS Word Tools Menu to automate barcode labeling, etc. Sample macros for Word and Access allow you to easily automate barcode production in these applications.
Bar codes can be printed to any printer supported by Windows, i.e. over 250 different printer types.
The easy-to-use manual has a tutorial on bar code technology. Unlimited technical support is also provided FREE!
"We have been testing B-Coder Pro for printing name badges with barcodes and it works wonderfully - this is saving us so much time. I also want to thank your whole company - everyone I have spoken to there has always been really nice and helpful. I will definitely recommend your product to our other offices around the country. Thanks." - Melissa Huntsman, Senior Graphic Designer, Coldwell Banker
"I tried your software to generate bar codes for the books we print. It was fantastic. I was able to generate the bar codes in under 5 minutes without having to read tons of information about how to use the software." -Helen Emery, Rigel Corp.
Versatility
B-Coder allows complete control over all aspects of bar code production.
Choose from any font available on your system for human readable text, select from 16 million colors for bar codes, background and text. Select height and width, Bar Width Reduction, rotation, supplemental messages, automatic check digits, rotation, measurement units, etc.
Advanced Features
B-Coder Pro recognizes a complete set of Dynamic Data Exchange (DDE) commands that allow other Windows programs to automatically generate and retrieve bar codes. For example, automate bar code labeling from any word processor or database.
Incremental Numbering (Auto Sequencing) and message input from disk files are also fully supported.
"B-Coder Works Great! It's so nice to have software this easy to use. B-Coder is absolutely excellent for creating camera-ready art. I could not be happier!" -Janet Fowler, To Market, Inc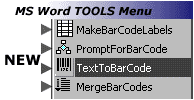 One-step bar codes in Word and Access
B-Coder Pro comes complete with Word and Access macros that turn these packages into powerful bar coding programs.
Word and Access already have extremely powerful labeling, database, word processing, merge features and VBA macro capabilities. All they need is B-Coder Pro to turn them into extremely powerful, professional bar code printing applications.
Features
The sample macros provided with B-Coder Pro add the following features and more...
• Highlight text in Word and with the click of a button convert it to a barcode.
• Automate serialized and/or high quantity barcode labeling in Word and Access.
• Also create barcodes from database data.
• Merge data and barcodes into documents and labels... and much more...
• In addition, B-Coder Pro can automate barcode production in any DDE supporting application that accepts pasting of WMF graphics. Sample macros for other applications (Excel, WordPerfect, etc.) are also provided free.
In addition B-Coder Pro can automate barcode production in any DDE supporting application that accepts pasting of WMF graphics. Sample macros for other applications (Excel, WordPerfect, etc.) are also provided free. See SET-UP STEPS for how to use with any application.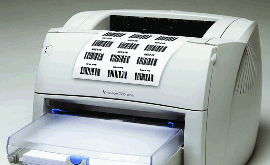 Bar Code Symbologies Supported by B-Coder Professional
• Code 39 (Normal, Full ASCII & HIBC)
• UPC A
• UPC E
• EAN 8
• EAN 13 (+Booklan)
• Interleaved 2 of 5 (ITF)
• Code 128
• Code 93
• EAN/UCC 128
• PostNET
• Codabar
• MSI Plessey
• PDF 417
• Aztec Code
• Data Matrix
• RSS-14
• RSS-14 Stacked
• RSS-14 Stacked Omni Directional
• RSS Limited
FREE Support
To ensure complete user satisfaction, TAL provides free and unlimited technical support for all its software products. Easily reach us by phone, fax or email for immediate answers.

"May I say a very great "thank you" for the way in which you sorted out my problem with the Code 128 barcodes. You responded very quickly- we are 8 hours ahead of you here in the UK and by the time I got to work this morning you had not only found the problem, you had gone beyond that & actually fixed the spreadsheet for me. I have spent today successfully printing & merging thousands of barcodes (we have merged & printed 7000 A3 sheets each with 4 barcodes- total 28000 barcodes) all thanks to your care & customer-friendly attitude. Please accept my thanks & pass on my comments to your colleagues. You are an inspiration as to what technical support should be - going the extra mile. Thanks again." - Julian Ward, Sapphire GB Ltd, UK
"I'm blown away by your prompt response! You and your company are by far the most responsive company I've come across on the internet. Thank-you!" - Jeremy R. DeYoung, Chief Architect - LunarFly, LLC

Compatibility Requirements
B-Coder Pro runs under any 32 bit version of Windows (16 bit Windows and DOS versions are available upon request). B-Coder Lite v3.0 will run on any version of Windows.